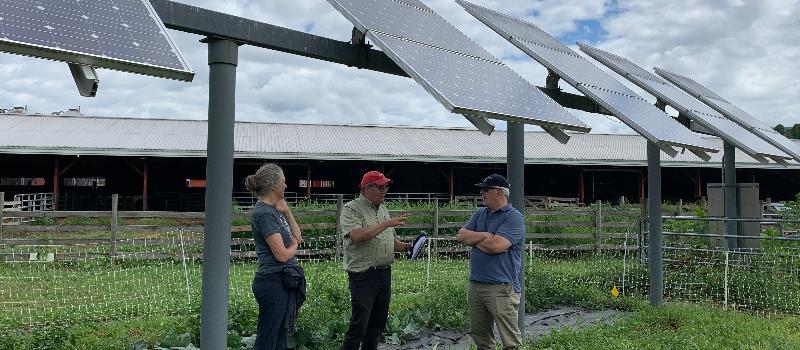 March 30, 2023
How Can Solar and Agriculture Co-Exist?
Originally written for NYVT Media on 3/30/23
By Katie Jilek
As New York faces a future that includes wetter winters, and periods of more frequent droughts during the summer, farming continues to be a challenging livelihood. For many farmers looking to retire, as well as new or younger farmers, the economics of agriculture, is increasingly a focal point as they plan their future. According to American Farmland Trust's Farms Under Threat report, New York lost over a quarter million acres of farmland in sixteen years (2000 – 2016).
The loss of NY's farmland is cause for concern. But imagine if farmers had an income stream that helped cover rough years due to drought, flooding, and erratic weather. That's part of a shift underway to rethink solar development that works for farmers and farming, rather than taking it out of production.
While I think we can all agree that no one wants to see solar panels on good farmland if it takes that farmland out of production, Farmer First Solar changes that paradigm and prioritizes designs that allow for greater farming options, increased farm viability, and soil health.
This is a change from traditional ground-mounted solar that provides limited options for farming. Solar doesn't need to be agriculture's adversary. In fact, "Farmer First Solar", "Dual-use Solar", "Agrivoltaics" or "Smart Solar" are all terms for a technology that is revolutionizing the way farmers approach energy production in New York State. By prioritizing farming as part of the solar design, farmers are able to generate additional income while also continuing to grow crops and raise livestock. Japan, Germany, France, and Belgium, among others, have been leading the way. Here in the US, we are just starting to dip our toes in yet interest is increasing dramatically as farmers find out what is possible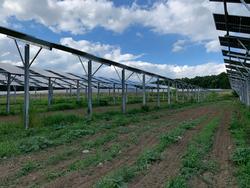 Farmer First Solar looks a little different than what you may expect. Often panels are higher off the ground and spaced wider, rather than a solid bank of panels close to the ground. The rows of solar panels are often spaced wider apart and designed to allow for additional sunlight to reach the ground, allowing for vegetable or hay production. This can allow livestock to graze, including cows and horses, and equipment to pass under the arrays. The panels can also be elevated over orchards, vineyards, and berries (raspberries are a good example), providing protection from frost or hail as well as reducing water demands during periods of drought.
American Farmland Trust (AFT) has recently developed Smart Solar Principles to help offer a blueprint for solar development. "If done well, Smart Solar projects can provide income for farmers and landowners and protect land well-suited for agriculture. America needs both—much more solar energy AND productive, resilient farms and ranches." said John Piotti, AFT President and CEO.
As the demand for renewable energy continues to skyrocket, solar developers have an equally strong incentive to seek out as many acres of wide-open, sun-kissed farmland or pasture as landowners are willing to rent out to them. This, at its essence, is the problem that dual-use solar aims to address.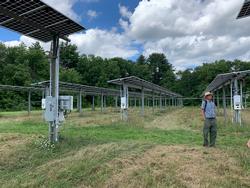 Another potential advantage of Farmer First Solar is the increased efficiency of farming operations. Solar panels can provide shade for crops, reducing the impact of heat stress during hot summer months. This may lead to increased crop yields and healthier produce.
In New York State, Farmer First Solar makes sense given the state's commitment to renewable energy. The state legislature has set a goal for the state to achieve 70% renewable energy by 2030. Solar designed to work with farming, rather than against it, is one of the technologies that can help to achieve this goal without taking quality farmland out of production. Additionally, the state's climate action plan calls for the expansion of renewable energy projects that can help to mitigate the impacts of climate change—impacts that are already affecting farms and farmland.
ASA Executive Director, Renee Bouplon, said, "It's important for farmers and communities to think about the impacts on both the short and long-term agricultural viability if contemplating solar on farmland. If is it designed to be Farmer First Solar, might be a good option and enhance a farm operation, protect quality soils or otherwise support the existing local farm economy while at the same time meeting the growing need for clean energy."
We have an opportunity to prioritize Farmer First Solar in New York State, rather than solar that takes farmland out of production. Other states like Colorado and Massachusetts are establishing policies to ensure this type of solar becomes another tool for farmers. By combining agricultural land use with thoughtfully designed solar energy production that ensures farm use diversity over time, farmers can generate additional income and increase their family's ability to pass the farm, as a farm, to future generations. As the state continues to prioritize renewable energy and farm viability Farmer First Solar is sure to play an increasingly important role in the agriculture industry.