June 05, 2023
ASA Conservation Easements Protects 420 Acres on Historic Rensselaer County Farm
ASA Conservation Easements Protects 420 Acres on Historic Rensselaer County Farm

GREENWICH, NY – The Agricultural Stewardship Association (ASA) is pleased to announce the permanent protection of Sheffer's Grassland Dairy in Rensselaer County. The 420-acre farm is located in the Towns of Hoosick and Pittstown. Funding for this conservation project was provided through the State Farmland Protection Implementation Program which is administered by the NYS Department of Agriculture and Markets.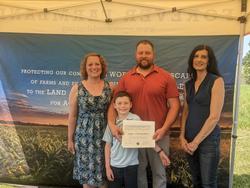 Eric Sheffer has been operating the dairy farm with his father Wally since 2008. Eric is the 6th generation farmer on the property, which has been in agriculture since 1774. Sheffer's Grassland Dairy has become a widely respected grazing dairy farm and has been featured in many publications including Hoard's Dairymen, Progressive Foragers, Country Folks, Lancaster Farming, and several local Cornell Cooperative Extension publications. Both Eric and Wally Sheffer have spoken at numerous conferences and grazing meetings including at the National Grazing Land Coalition conference. Eric also currently sits on the board of the National Dairy Grazing Apprenticeship, a non-profit organization that partners with established dairy farmers and professionals to develop work-based training in grazing dairy operations.
"We've always wanted to keep this farm a farm. Our operation is actually in a strong position, but I think there's trouble ahead for organic dairy, the market is tough. Conserving the land affords us flexibility with land debt and expansion. We're able to pick our heads up and really consider different opportunities," owner Eric Sheffer said. "Maybe we'll take on different enterprises or maybe we'll do something else. The important thing is we're more resilient and in a better position to change directions if the market gets flooded or other factors impact our ability to be profitable. Protecting the land makes all that possible for us, and for the next generation" he continued.
State Agriculture Commissioner Richard Ball said, "I want to congratulate Eric and Wally Sheffer and the entire Sheffer Grassland Dairy family for their achievement protecting their 420-acre property for years to come. I'm proud to say that this success is one of many great stories we have to tell when it comes to our Farmland Protection program. We owe this success to people like the Sheffers, whose dedication to agriculture and focus on protecting our environment is securing a bright future for New York, one farm at a time."
"Rensselaer County has a proud agricultural tradition and history, and farming today remains a large and vital part of our business sector in the county. We look forward to family farms like Sheffer's Grassland Dairy continuing for another several generations. Conserving family farms like Sheffer's Grassland Dairy helps boost our economy, sustain our local food supply, and protect open space and farmland that cannot be replaced," said County Executive Steve McLaughlin.
"It's been a pleasure to work with the Sheffer family to conserve their historic farm. We would like to thank Governor Hochul, the New York State Legislature, the Department of Agriculture and Markets, Rensselaer County, and the Towns of Hoosick and Pittstown, who have been crucial in helping to finalize this project. We are so grateful for their partnership and on-going support for farmland protection," said Renee Bouplon, Executive Director at ASA.
"Congratulations to the Sheffer family for the protection of their farm with Agricultural Stewardship Association I know it's a big decision to make, it's also a long process, we see the announcements from the state that we're having all of these grants were made and people just assume that the lands already protected but there's a lot of work between when that's announced and today. So, congratulations for persevering. Farmland protection is a solid foundation that creates so many benefits for all New Yorkers, so this doesn't just benefit the Sheffer family, this benefits all of New York state and all of New York's residents. Improving our air and water quality, our soils, providing bountiful local food, helping to mitigate climate change, and also contributing to a strong local economy and a rural community," said Linda Garrett, NY Regional Director at American Farmland Trust.
"The protection of farmland in Rensselaer County is an important part in keeping our history alive. The Sheffer's Grassland Dairy was founded before the Revolutionary War, and the conservation of their 420-acre farm, with the support of the Agricultural Stewardship Association (ASA), will keep this historic farm alive for generations to come," said Rensselaer County Legislator Jeff Wysocki, who is also the chair of the county Agricultural and Farmland Protection Board.
"On behalf of the Hoosick town board and the residents of the town of Hoosick we congratulate the Sheffer family, Sheffer's Grassland Dairy, and the Agricultural Stewardship Association for coming together to forever protect another piece of Hoosick agriculture, heritage, and future. By maintaining the land's agricultural use, traditional and newer farming practices, along with six generations of historical significance, the Sheffer family and ASA continue to contribute to the conversion of rural landscapes and cultural identity. This protection is essential for future generations to learn, understand, and appreciate the importance of agriculture in our society. It has been and will continue to quietly serve as a local hub for dairy and food production, employment, education, knowledge, training, best practices, innovative technologies, and research for the coming generations. Again, I say congratulations to the Sheffer family and ASA for pulling this together," said Mark Surdam, Supervisor for the Town of Hoosick.
With the closing of this project, the Agricultural Stewardship Association has helped 165 farm families conserve over 30,000 acres in Rensselaer and Washington counties. ASA was founded in 1990 by local farmers to conserve land and ensure a future for farming and forestry in our region. For more information about ASA's work, visit www.agstewardship.org.
###