Programs and Events
Event Details
Check our current schedule of events below. We love our community and look forward to connecting with you again!
Be sure to sign up for our e-news and to join us on social media so you can stay up-to-date on our digital and in-person events, and hear the latest conservation stories.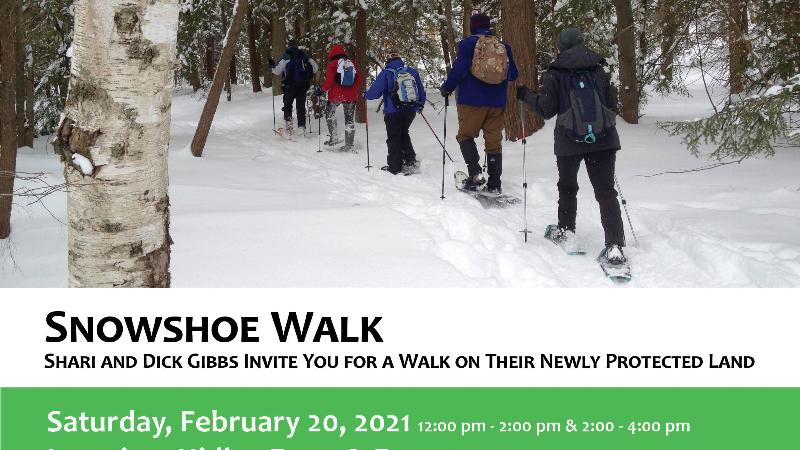 Snowshoe Walk at Hidley Farm and Forest - 2:00 pm start
Date:
February 20, 2021
Time:
2:00 - 4:00 pm
Place:
Hidley Farm and Forest
Address:
287 Hidley Road, Wyantskill, NY
You are invited to join ASA on a snowshoe walk at the newly conserved Hidley Farm and Forest. Owners Shari and Dick Gibbs not only donated a conservation easement on their land, they enjoy sharing the farm with neighbors and friends. The Gibbs Family think of their land as a many layered treasure enjoyed by all.

In 1981 Dick and Shari purchased the 100 acres behind the old Hidley farmhouse that they had purchased in 1972. They say its been quite the journey of learning how to manage their 130 acres of cropland and woodlot. Through the years, Hidley Farm and Forest has become more than a source for firewood and bales of hay. The Gibbs Family have about 200 maple trees tapped by their neighbors, Larry and Kathy Skinner and have created numerous trails for walking, skiing, snowshoeing and more.

No snowshoeing experience is necessary -- beginners are welcome! Bring snowshoes, a beverage and a snack. Masks are required when we first meet up and when we gather, but may be removed while we are walking in the forest with at least 10' between participants. We recommend wool or outdoorsy synthetics to keep you warm rather than cotton layers. We also suggest you wear roomy boots with extra socks if your feet usually get chilly.

This is a free event, open to the public. Space is very limited. All participants must pre-register, so no contact is necessary on the day of the event. In the event of poor weather, the alternate date will be February 27th.