Programs and Events
Event Details
Check our current schedule of events below. We love our community and look forward to connecting with you again!
Be sure to sign up for our e-news and to join us on social media so you can stay up-to-date on our digital and in-person events, and hear the latest conservation stories.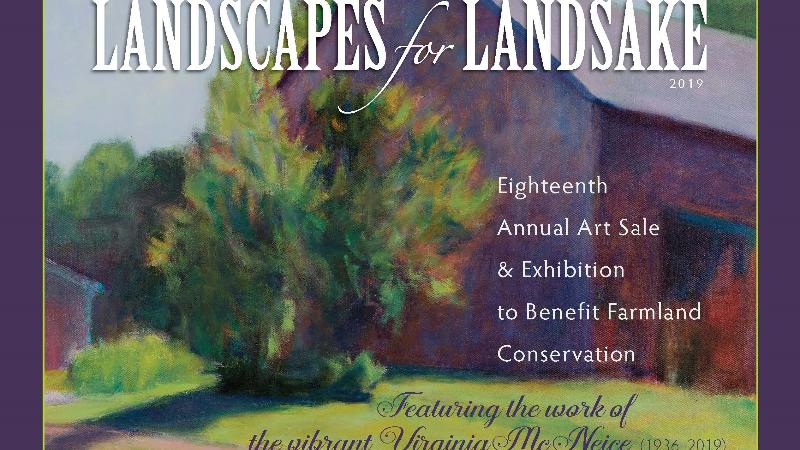 Public Opening & Gallery Hours - Landscapes for Landsake
Date:
October 12, 2019 - October 14, 2019
Time:
Sat 12:00 to 5:00 / Sunday & Monday 12:00 to 4:00
Place:
Maple Ridge
Address:
172 State Route 372, Cambridge, NY
18th Annual Art Sale & Exhibition to benefit farmland conservation.
The Opening Reception will be held October 12th from 12:00 pm to 5:00 pm. Admission is a $10 per person donation and includes complimentary wine and cheese.
October 13th & 14th the Gallery will be open from 12:00 pm to 4:00 pm. Admission is free.
Buy Art 2 Save Farms - 50% of art sales benefit farmland conservation.
Since 1990 the Agricultural Stewardship Association (ASA) has worked to accomplish a singular mission: protect the farms, rich soils and agricultural landscape in Washington and Rensselaer counties for future generations. In that time, ASA has managed to conserve 133 farms and 22,328 acres. For the last 17 years, a significant source of funding for this mission has come from Landscapes for Landsake Art Sale and Exhibition, a celebration of the land by the community of local artists.

The show opens on Saturday, October 12th from 12 to 5 p.m with a wine and cheese reception. Admission is $10 per person. The gallery is also open from noon to 4 p.m. on Sunday and Monday free of charge. This year's exhibition features the work of over 60 artists, eighteen of which are participating for the first time. Many of the artists will be on hand to discuss their work throughout the weekend. The sale takes place in the historic barn at Maple Ridge, 172 State Route 372 in the hamlet of Coila, just west of the Village of Cambridge.

Landscapes for Landsake is the region's largest art buying event of the season and ASA's largest fundraiser of the year. Participating artists generously donate 50% of their proceeds to support ASA's farmland conservation work.

Teri Ptacek, ASA's executive director, explains "This event celebrates the connection between the art and the landscapes we are working to protect. It's what makes Landscapes for Landsake so special. The success of this event has had a tremendous impact on ASA's ability to protect local farms."

This year's featured painting, Jini's Barn, was painted by Virginia "Jini" McNeice. The oil painting is inspired by a building on her farm and is characteristic of her vibrant color palette. Jini was a prolific painter with artwork in collection across the country. Sadly, Jini passed in early March, Jini is one of three artists that has participated in the show since the very beginning and was the featured artist in 2003. Reflecting on her work, she once wrote that she is strongly influenced by the areas local agricultural landscapes. She loved the strong traditional shapes of the farm buildings and vibrant colors of the changing seasons.

The exhibit is curated by Leah McCloskey, a resident of Salem, NY and active supporter of local farmers. Leah is the Administrative Coordinator for the Artists Fellowship and former director of Exhibition Outreach at the Art Students League of New York. Leah's creativity and eye for beauty are bound to make ASA's exhibition a tremendous success again this year. "There really is no other venue in the region that has all of these incredibly talented artists in one place at one time. It's an art event not to be missed".

This year's artists include:
Deborah Bayly, Susan Beadle, Gigi Begin, John Begin, Virginia Bryant, Jill Burks, Seth Butler, Marilyn Cavallari, James Coe, Eden Compton, Susan Coon, Joan Duff-Bohrer, Hannie Eisma Varosy, Judith Ellers, Yucel Erdogan, Ann Fitzgibbons, Jerry Freedner, Tracy Helgeson, Ali Herrmann, Margaret Horn, Mary Iselin, Thomas Kerr, Lynne Kerr, Clarence King, Randi Kish, Rose Klebes, Palma Kolansky, Karen Koziol, James Howard Kuntsler, Matthew Lerman, Zack Lobdell, Nina Lockwood, Dona Ann McAdams, Virginia McNeice, Naomi Meyer, Robert Moylan, Lynne Oddo, Clifford Oliver, Harry Orlyk, Leslie Parke, Terry Peca, Leslie Peck, Mark Pohl, Neil Roberts, Tom Ryan, Elisa Sheehan, Fumiko Shido, Laura Shore, Pam Short, Robert Skinner, Trudi Smith, Rebecca A Sparks, Anne Sutherland, Marguerite Takvorian-Holmes, Scott Taylor, Terry Teitelbaum, Janine Thomas, Shira Toren, Mark Tougias, George Van Hook, Gyula Varosy, Laura Von Rosk, Frank Vurraro, MaryPat Wager, Catherine Wagner Minnery, Takeyce Walter, Susan Whiting, Regina Wickham, George Wilson.

ASA would like to thank all the businesses who have demonstrated their commitment to protecting our farmland by sponsoring the show. Special thanks to our Cream of the Crop Sponsor, Salem Farm Supply, Inc. and our Title Sponsors, The Fort Miller Group, Inc. and Breanna Lundy, Financial Advisor

We are also grateful to our Lead Sponsors: Carmody Ford, Inc., Currin Compliance Services, Inc., Golde Engineering, Stewart's Shops, Owl Pen Books. Additional sponsors include Blue Flame Gas Co. Inc., Brown's Brewing Company, Farm Credit East, ACA, Kelly & Sellar Ryan, PLLC, Attorneys at Law, Lakeside General Store – Cossayuna, Ny, Peckham Industries, Price Chopper's Golub Foundation, Battenkill Veterinary, Caffry & Flower, Attorneys at Law, Capital Tractor, Spiral Design Studio, Tiashoke Farms, Whipple City Studio & Farmstead Originals and Wiley Bros, Inc.

The Agricultural Stewardship Association was founded by farmers to protect agricultural land and ensure a future for farming in our region. Since its founding in 1990, ASA has worked with farmers and their families to protect 22,328 acres on 133 properties in Washington and Rensselaer counties.
Event Sponsors
---
---
---