Programs and Events
Event Details
Check our current schedule of events below. We love our community and look forward to connecting with you again!
Be sure to sign up for our e-news and to join us on social media so you can stay up-to-date on our digital and in-person events, and hear the latest conservation stories.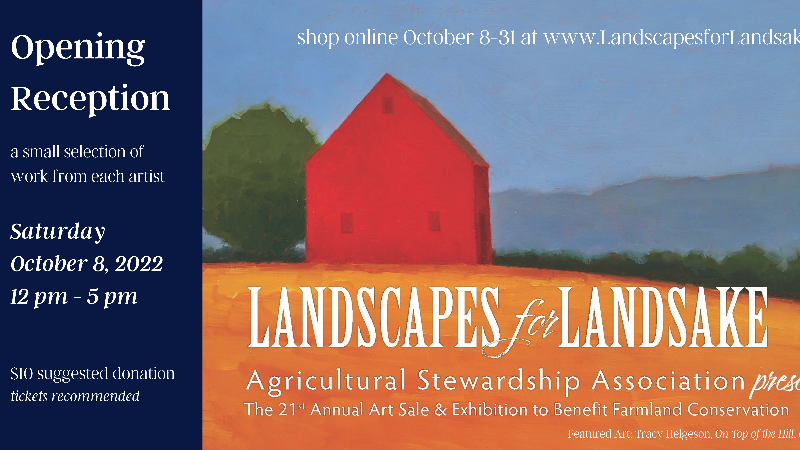 Landscapes for Landsake ~ Opening Reception
Date:
October 08, 2022 - October 31, 2022
Place:
Maple Ridge & online at www.LandscapesforLandsake.com
Address:
172 State Route 372, Cambridge, NY 12816
21st Annual Art Sale & Exhibition
50% of art sales benefit local farmland conservation
Open in-person at Maple Ridge Gallery (172 State Route 372, Cambridge, NY)

Sunday, October 9th from 12 pm - 4 pm
Closed on Monday
View from the Comfort of Your Home: Online at www.LandscapesforLandsake.com
Saturday, October 8th at 4 pm thru October 31st.
This year's exhibition features the work of 61 artists. Many of the artists will be on hand to discuss their work throughout the weekend.
This year's featured artist is Tracy Helgeson of Cooperstown, NY. Her work is greatly inspired by the landscape, as well as the barns, structures, roads and farm scenes that surround her home. "I often paint the same scenes over and over, deriving great comfort from portraying what is familiar as well as noting the small changes that occur over time in my environment. Yet within that framework of the familiar, the start of each painting brings me the exciting challenge of finding new ways to express what I see and feel," Tracy says.
Tracy strives for simplicity in her work; in color, form, composition, and subject matter. However, complexities inevitably find their way in via texture, handwritten elements and small bits of painted details. Her painting, "On Top of the Hill" is highlighted on posters and postcards throughout the region and at Maple Ridge. "On Top of the Hill" was chosen as the featured work because it exemplifies the show's spirit. Tracy has an innate ability to take the ordinary and make it feel magical," says Klara Varosy, curator of the show.
Landscapes for Landsake is the region's largest art-buying event of the season and ASA's largest fundraiser of the year. Participating artists generously donate 50% of their proceeds to support ASA's farmland conservation work.
The 2022 exhibition is curated by Klara Varosy, a resident of Salem, NY.
Featuring works by: Laurie Alberts, Deborah Bayly, Susan Beadle, Gigi Begin, John Begin, Seth Butler, Marilyn Cavallari, Eden Compton Clay, Susan Coon, Huseyin Erdogan, Yucel Erdogan, Janine Gibson, Laurie Goodhart, Tracy Helgeson, Ali Herrmann, Ghetta Hirsch, Conard Holton, Margaret Horn, Carolyn Justice, Tom Kerr, Clarence King, Rose Klebes, Serena Kovalosky, Katie Langford, Matthew Lerman, Pamela Marron, Courtney McCloskey, Naomi Meyer, Sharon Miller, Robert Moylan, Lynne Oddo, Clifford Oliver, Harry Orlyk, Dave Ostrowski, Leslie Parke, Leslie Peck, Joan Piekny, Mark Pohl, Terry Preisner, James Rodewald, Tom Ryan, Melissa Schlobohm, Michael Scupholm, Rita Seiko Payne, Laura Shore, Pam Short, Anne Sutherland, Diane Swanson, Marguerite Takvorian-Holmes, Terry Teitelbaum, Janine Thomas, Mark Tougias, George Van Hook, Hannie Eisma Varosy, Diane Veros, Frank Vurraro, Catherine Wagner Minnery, Takeyce Walter, Regina Wickham, Ken Wilson and Gregory Wing
#BuyArt2SaveFarms
artwork above: On Top of the Hill painted by 2022 featured artist - Tracy Helgeson