Programs and Events
Event Details
Check our current schedule of events below. We love our community and look forward to connecting with you again!
Be sure to sign up for our e-news and to join us on social media so you can stay up-to-date on our digital and in-person events, and hear the latest conservation stories.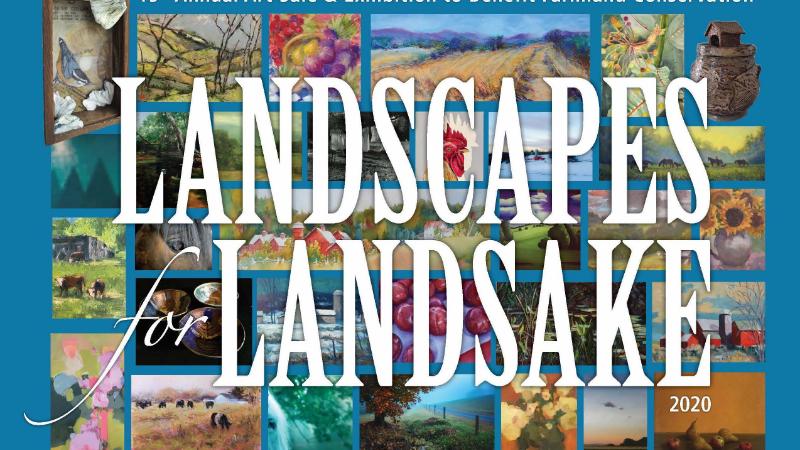 Landscapes for Landsake
Date:
October 10, 2020 - October 30, 2020
Time:
all day, every day
Place:
Virtual
Address:
www.landscapesforlandsake.com
19th Annual Art Sale & Exhibition to benefit farmland conservation
Inaugural Virtual Event
BUY ART 2 SAVE FARMS - 50% OF ART SALES BENEFIT FARMLAND CONSERVATION.
Since 1990 the Agricultural Stewardship Association (ASA) has worked to accomplish a singular mission: protect the farms and forests, rich soils and agricultural landscape of Washington and Rensselaer counties for future generations. In that time, ASA has managed to conserve 139 farms and 24,00 acres. For the last 18 years, a significant source of funding for this mission has come from Landscapes for Landsake Art Sale and Exhibition, a celebration of the land by the community of local artists.

The show opens on Saturday, October 10th and will remain open until October 30th. This year's exhibition features the work of over 40 artists.

Landscapes for Landsake is the region's largest art buying event of the season and ASA's largest fundraiser of the year. Participating artists generously donate 50% of their proceeds to support ASA's farmland conservation work.

Teri Ptacek, ASA's executive director, explains "This event celebrates the connection between the art and the landscapes we are working to protect. It's what makes Landscapes for Landsake so special. The success of this event has had a tremendous impact on ASA's ability to protect local farms."

The exhibit is curated by Leah McCloskey, a resident of Salem, NY and active supporter of local farmers. Leah is the Administrative Coordinator for the Artists Fellowship and former director of Exhibition Outreach at the Art Students League of New York. Leah's creativity and eye for beauty are bound to make ASA's exhibition a tremendous success again this year. "There really is no other venue in the region that has all of these incredibly talented artists in one place at one time. It's an art event not to be missed".

This year's artists include:
Deborah Bayly, Susan Beadle, Gigi Begin, Marilyn Cavallari, Eden Compton, Jerry Freedner, Laurie Goodhart, Tracy Helgeson, Ali Herrmann, Margaret Horn, Mary Iselin, Carolyn Justice, Lynne Kerr, Tom Kerr, Clarence King, Matthew Lerman, Dona Ann McAdams, Robert Moylan, Maryann Mullett, Harry Orlyk, Leslie Parke, Terry Peca, Leslie Peck, Mark Pohl, Dawne and Dean Polis, Neil Roberts, James Rodewald, Tom Ryan, Elisa Sheehan, Pam Short, Anne Sutherland, Marguerite Takvorian-Holmes, Terry Teitelbaum, Janine Thomas, Mark Tougias, George Van Hook, Frank Vurraro, Catherine Wagner Minnery, Takeyce Walter, Regina Wickham, George Wilson

ASA would like to thank all the businesses who have demonstrated their commitment to protecting our farmland by sponsoring the show.