Programs and Events
Event Details
Due to COVID-19 we are limiting our events to outdoor gatherings and virtual programs until further notice.
We have created several videos that highlight our work in the community. Please visit our YouTube Channel and follow us on Facebook, Instagram and Twitter to learn more about ASA and take a virtual farm tour of one of our conserved properties.
If you would like to learn more about the Cambridge Community Forest, you can follow along on Facebook and Instagram for updates.
Be the first to know - Special Events, sneak previews, educational workshops. Directly to your inbox. Join the ASA mailing list located at the bottom of this page.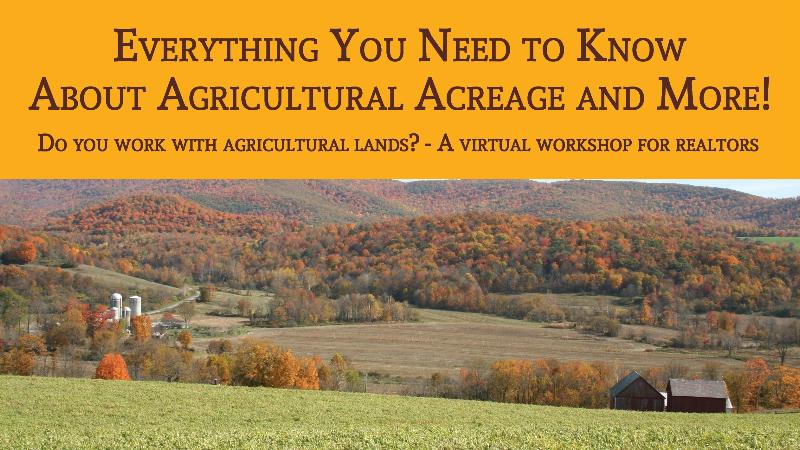 Agricultural Acreage & More! - For Realtors
Date:
February 10, 2021
Time:
9:00 - 11:00 am
Place:
via Zoom
Address:
will be emailed after registration
Everything You Need to Know About Agricultural Acreage and More!
Do you work with agricultural lands? - A virtual workshop for realtors
Are you a realtor working in a rural area? This presentation will provide you with resources to help evaluate farms and vacant land that you may be listing. Our presenter is Jennifer Fimbel, a Senior Resource Educator for Agriculture with Duchess County Cornell Cooperative Extension Educator. She has extensive experience working with realtors to help them assess and effectively market farmland as well as understanding the needs of clients hoping to purchase farmland.
Topics to be discussed:
Which properties are eligible for farm "exemptions"
What are the differences between agricultural districts and agricultural zoning
Why knowing about local zoning is important
Matching suitable properties for prospective buyers
Section 310 of Article 25 AA NYS Agricultural Districts Law concerning disclosure
Mapping resource tools available and how to better utilize them
Community agriculture profiles
What is a conservation easement and how it affects the property
Questions?
Contact Janet Britt via email or call our office at (518) 692-7285
Support for this program is provided through a grant coordinated by American Farmland Trust and funded by the New York State Department of Agriculture and Markets as part of the Farmland for a New Generation New York (FNG NY) initiative. ASA and Dutchess County CCE participate in a network of Regional Navigators as part of FNG NY.