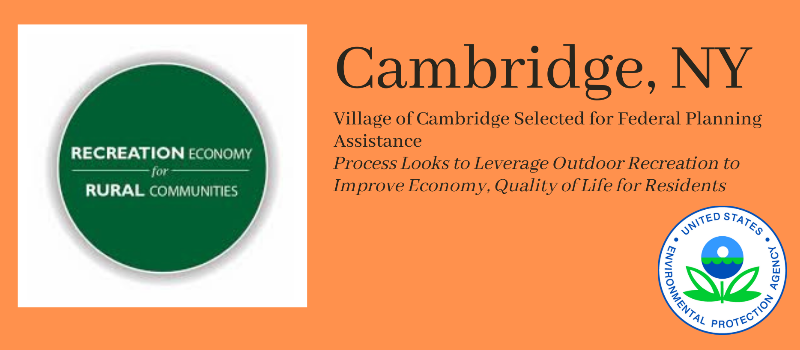 September 16, 2020
Virtual Community Workshop
The Village of Cambridge was selected by the EPA to receive assistance through a program that will help develop a plan to support the local economy through outdoor recreation. The plan will be based on community input.
Please share your perspectives and help create an action plan to strengthen main street, celebrate what's special about Cambridge, and enhance outdoor recreation opportunities in our community, including the new community forest! We'll be talking about the following topics:
Connecting Main Street to Natural Resources
– Priorities for the Community Forest
–Community Identity and Opportunities for All
– Regional Connections
There will be a series of public sessions between 9/21 and 9/29 (schedule is below) to get that input. Please register to attend the sessions. If you can only attend one or two, please attend the opening and/or the closing.

Monday, September 21
7 pm -- Opening meeting on vision and values
Tuesday, September 22
10 am -- Case stories sharing
2 pm -- Small group exercises
Wednesday, September 23
10 am -- Action brainstorming
Friday, September 25
10 am -- Action prioritization
2 pm -- Action detailing
Tuesday, September 29
7 pm -- Wrap-up session